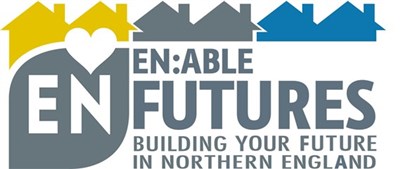 EN:Able Futures CIC is a government registered Flexi-Job Apprenticeship Agency providing construction sector technical and trade apprenticeships in Yorkshire & Humber, the North East and north East Midlands.
We work closely with industry employers to develop the apprenticeship standards they need to grow their business and facilitate the recruitment of apprentices for those roles. Our team of Apprentice Managers work with each individual apprentice, providing mentor and pastoral support to ensure they succeed in their new careers.
All apprentices are directly employed by EN:Able Futures, so all employment responsibilities, including assessments, salary, health and safety training and ongoing support are provided by us.
For employers we take the uncertainty and risk out of taking on an apprentice, ensuring they can focus on their business whilst gaining valuable new members of their workforce.
EN:Able Futures is part of Efficiency North Holdings which brings together EN:Procure Ltd, EN:Able Futures and EN:Able Build, three not-for-profit organisations who share a commitment to supporting social and economic regeneration in Northern England.